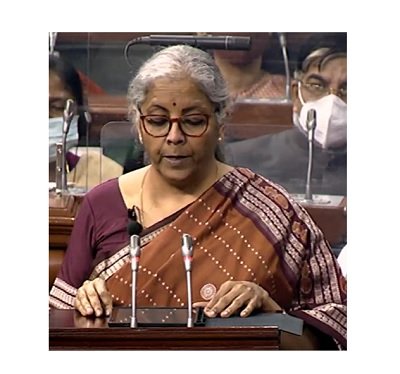 Experts put forth their views on the budget
"We welcome the proposals announced in the Union Budget presented by the finance minister. The budget priority on stimulating growth and employment through a substantial infra-led capital investment of Rs.7.5 lakh crores is commendable. Another notable feature of the Union Budget is its support for technology-led growth. The agricultural sector has been given further impetus through initiatives such as the oilseeds mission, promotion of Kisan Drones for crop assessment/protection, direct MSP benefit credit to farmers, support to organic farming and the post-harvest value chain."
—Ramesh Doraiswami, MD and CEO, National Bulk Handling Corporation (NBHC) 
"I believe Union Budget FY 22-23 is all-inclusive and growth-oriented. I welcome emphasis on energy transition and climate action as key pillars of development. Tax on the unblended fuel is a great start to promote the transition to greener fuels which is in line with the global practice of differential pricing for ethanol-blended fuel. The budget outlines concerted efforts to conserve the environment by sustainable climate action with a focus on CI reduction to achieve net zero targets. This budget will strengthen innovation, R&D and start-up ecosystem resulting in job creation"
— Dr Pramod Chaudhari, Founder Chairman of Praj Industries
The Union Budget 2022-23 is very progressive, focussing on – farmers, agriculture productivity along with the incorporation of digital technology with various segments, uplifting and supporting small enterprises and boosting infrastructure in the country. Along with that, there's a lot of importance given to Atmanirbhar Bharat and PM Gati Shakti.
— Rajiv Gandhi, CEO & MD, Hester Biosciences
The emphasis on digital is one of the most exciting aspects of the budget, especially the focus on using blockchain technology. Another important announcement is the focus on chemical-free natural farming, which will not only boost the production and consumption of organic produce, it will also, in the long term, replenish our farmlands and incentivise farmers to take up organic farming. The Finance Minister has highlighted how organic farming and value addition will be taught to farmers; she also focused on IT-based support being provided, which I think will be a great boost for the sector and steps in the right direction.
— Gaurav Manchanda, Founder & MD, The Organic World
The government has underlined its focus on sustainability by doubling down on natural farming and regenerative agriculture. The triple-barreled approach lays the foundation to building the next generation of food supply chains in India, leapfrogging other countries in the use of technology. It will help propel our core sectors such as food and agriculture, energy and other spaces firmly into the 21st century, and send out a very bold signal to the world. It also sends a signal to private capital, nudging private capitalists to focus on sectors of substance, rather than froth. The government has also ensured there is a policy continuity and a roadmap for the farm sector, the foundations for which were already laid in last year's budget. The thrust to use technology and diversify farming activities will ensure farming as a profession remains sustainable and attractive. With emphasis also being laid on the roadmap of making end-to-end supply chains more efficient and reducing costs in the farming sector which currently acts as a big impediment.
—Karthik Jayaraman, Managing Director, WayCool Foods & Products
There was inadequate attention presented to the sector in the Union Budget of 2022. Duty reduction on certain inputs required for shrimp aquaculture to promote its exports is a welcome move as it will further boost entrepreneurial mindset and help in job creation. Lowering the production cost of shrimp hatchery and feed will promote growth in the sector. Like announcements made for wheat and paddy farmers, MSP was needed to be fixed for the poultry sector as well. This would have benefited the poultry farmers to a large extent. The budget for Blue Revolution has not been outlaid. While the development of infrastructure, roads and railways will also benefit the agriculture sector in terms of efficient logistical and supply chain management, the industry expected a lot more from the Budget to support farmers who are the backbone of our country.
— Amit Saraogi, MD, Anmol Feeds
"The budget has a few important initiatives that will have a long term impact on the farm sector. The move to have NABARD facilitate funding of start-ups with a blended capital finance model should provide much-needed seed capital in the agriculture & rural space. The expansion of technology focus from just tractors and agri-machinery to 'Kisan Drones' for crop assessment, digitisation of land records, spraying of insecticides and nutrients shows increasing interest in the application of IoT to the sector. The PPP model to be launched for delivery of digital and high-tech services to farmers will help farmers improve yields and higher output as we have seen. This budget should help in accelerating the digitalisation of the farming community."
— Shardul Sheth, Co-Founder and CEO, AgroStar
"It is revitalising to see that the budget prioritised agritech, especially with the push on DeepTech like AI and geospatial systems. A more positive aspect was monitoring agriculture with Kisan Drones as well as digitizing land records. Another much-welcomed part of the budget was the promotion of chemical-free and natural farming in the country. Taken together, all these measures will drive the sector and get the ball rolling towards higher growth."
— Navneet Ravikar, CMD, Leads Connect Services
"The government's intent to improve the agriculture sector was visible in the budget announcements. Though we expected various measures for the Indian agrochemical industry, there was no announcement regarding the industry's growth. Similarly, the farm sector was also eagerly waiting for the reforms to reduce the cost of farm inputs and modern technologies required for increasing the farmer's income and pushing up the agriculture sector's growth beyond 3.9 per cent. In line with the government's focus on modern-day agriculture, we will continue educating the farmers about the judicious use of safe agrochemicals."
— Vimal Alawadhi, MD, Best Agrolife
"It is a balanced budget that is focused on infrastructure boost, supporting agriculture sector with incentives and technological fillip. River interlinking projects, Ken-Betwa link will improve farming and livelihood facilities for farmers and the local population. The decision to revise syllabi of agricultural universities and use of Kisan drones for crop assessment, digitisation of land records, spraying of insect pesticides is a step in the right direction to modernise the agriculture sector. The introduction of post offices into the core banking sector will provide an impetus to financial inclusion in the rural parts of the country. Yes, there were expectations which have not found space in the budget, but as the FM stated, it's a budget that looks at overcoming the pangs of pandemic and focus on the next 25 years of growth."
— Balram Yadav, MD, Godrej Agrovet
"The budget should not only focus on economics but also enable sustainable development to secure future generations. Putting climate action as one of the focus areas of the budget is a mega move from the government. The announcement towards the launch of sovereign green bonds for projects signals India's strong commitment towards a low carbon economy. Revision of agriculture syllabus to include modern agricultural methods; use of Kisan drones for crop assessment, digitisation of land records and spraying of insect pesticides; boosting financial inclusion of farmers through digital modes of payments – all these steps taken by the government will go a long way in agriculture sector achieving its maximum potential while encouraging Indian AgTech startups to strengthen the agri ecosystem from the grassroots level."
—Dhruv Sawhney, Business Head and COO, nurture.farm
"The focus on start-ups and AgriTech in the budget will be helpful for the development of a digital ecosystem and technology inclusion in the agri sector. However, most industry aspirations remain unmet."
— Ajay Kakra, Leader – Food and Agriculture, PwC India
"The support towards branding millet products nationally and internationally is a timely and welcome move. With the UN declaring 2023 as the year of millets and with the known health and nutritional benefits of millets, it is expected that the use of millets would go up tremendously. This is the right time to ensure India continues its leadership position as a producer of millets."
— Devroop Dhar, Co-founder and MD, Primus Partners
"I would like to commend the government for putting forward an enterprising vision of India at 100. The budget's focus to increase technological intervention in agriculture value chains will further help to cushion the sector against global uncertainties. The government's dedicated focus to increasing investment in agriculture and the agritech sector will allow for all-inclusive development that will benefit farmers as well as agribusinesses. Fiscal support from the government will provide the necessary impetus for the growth of the rural economy and the export potential of India's agri-commodities."
— Taranjeet Singh Bhamra, CEO & Founder, AgNext Technologies
"Budget has a strong focus on agriculture with a specific focus on the delivery of high tech services, funding of startups through NABARD, focus on "Drone Shakti" for farmers, climate action. There is a good balance of the short term and long term measures. It's very forward-looking with a long-reaching impact on how agriculture will grow in India. These initiatives will solve the core problem of improvement of farm productivity and help improve farm incomes significantly."
— Amit Sinha, Co-Founder, Unnati
"This year's budget had a special emphasis on encouraging the use of Kisan Drones for crop assessment, digitisation of land data, and insecticide and nutrient spraying. This will undoubtedly provide a boost to the agriculture industry and the input industry as well. The government has also announced that money will be made available through NABARD to finance agricultural and rural enterprise startups relevant to the farm product value chain. All of these actions will tremendously benefit farmers. The government has also reduced the cost of mobile phones, which will encourage more small and marginal farmers to adopt technology."
— Rajesh Aggarwal, MD, Insecticide India
"The budget was as expected. We didn't anticipate the industry to take centre stage because several schemes for the FMCG sector have already been implemented in recent years. However, the mention of a rationalised strategy to improve domestic oilseed production and minimise reliance on imports was welcomed. A more promising statement was the package that centres on farmers adopting appropriate fruits and vegetables, as well as proper harvesting practices. The move will go a long way towards uplifting the food processing sector."
— Ghanshyam Khandelwal, Chairman, BL Agro
"I appreciate the Government's stance to continue the MSP regime; however, the key would be involving the private sector for building efficiency in MSP procurement. It is great that 2023 has been declared the International Year of Millets, as this crop is currently not considered in the government schemes and producers are largely small and marginal farmers that too mostly in rainfed regions. Introducing Kisan drones is a good step to ensure transparency and efficiency in key farm interventions, however, developing a regulatory framework for ease of introduction and use of drones is equally important. We believe that The NABARD Fund will promote investment in this sector. Some key areas such as crop diversification and promotion of domestic oilseeds production are important breakthrough ideas and can have long-term benefits to the agriculture sector."
— Pravesh Sharma, Director – Samunnati Agro