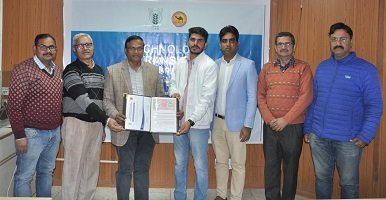 Camel milk will now be available across the country
An MoU was signed between ICAR-National Research Centre on Camel, Bikaner and Pearl Lacto to transfer the innovative Camel Milk Powder Technology (CMP) technology. With the transfer of innovative technology of CMP, camel milk will now be available across the country.
Artabandhu Sahoo, Director, ICAR-NRCC and Mr Aman Dhill, Founder, Pearl Lacto Company signed the MoU on behalf of the respective organisations.
Sahoo exhorted that by using innovative techniques the functional properties present camel milk remains intact to a greater extent. He said 'Camel Milk', can be called 'MEDICINAL-STOREHOUSE' or SUPER-FOOD due to its therapeutic and nutraceutical properties. Sahoo stressed that the transfer of this non-thermal powder-making technology to Pearl Lacto Company, will expand access to needy consumers across the country. He also urged that camel rearers should fully adopt camel milk entrepreneurship and move forward in this direction so that the camel milk market can be converted into an organised food supply chain.
RK Sawal, Principal Scientist said that the processing methods of cow and buffalo milk cannot be directly used for processing camel milk as camel milk has different characteristics, therefore scientists of the centre are being made efforts to process camel milk by innovative methods and to make various quality products.
During this occasion, Aman Dhill said that the company is at present mainly engaged in the business of cow's milk, the intention of the company is to bring 'Camel Milk' in the market so that the needy and common people can get its benefit. The company will make available the powder and its manufactured products through its parlours located in different cities across the country and through online channels, he added.