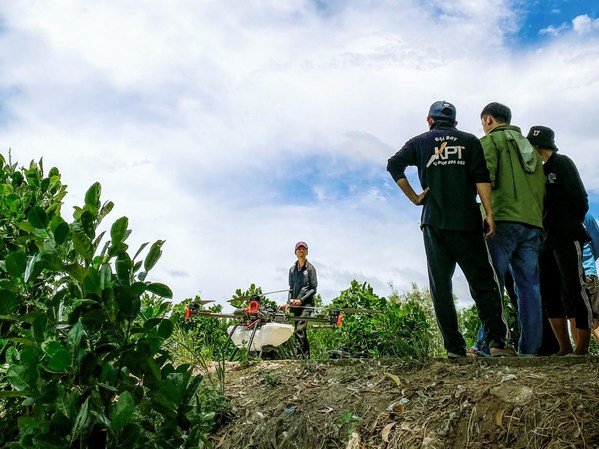 Agricultural drones are helping farmers to address labour shortage and reduce costs
Across Vietnam's Mekong River delta, drones flying above the field to perform farm works have been gradually adopted in the rice paddies. Vietnam becomes one of the fast-growing markets for XAG Agricultural Drone, helping farmers address labour shortage and reduce costs. In the meantime, drone pilot is seen as the new favoured career for rural youth, who can harness technology to make a good fortune in the agriculture sector.
"With two XAG P100 agricultural drones, two small teams consisting of only 4 to 6 people can finish the fieldwork much faster and easier. While the drone sprays evenly and penetrate the rice crops more quickly, it can also spread seeds and fertilizers. Our service has helped him reduce labour cost and improve the yields."said by 30-year-old Khuong, KPT's co-founder.
The introduction of agricultural drone has changed the tune of young generation on rural development, it provides a decent work opportunity for rural youth who can build a new type of business like the KPT Fly Team or join as a drone pilot. They have become the new rising force to strengthen Vietnam's role as 'rice bowl' of the world. The KPT Fly Team was established in 2021 by a group of young engineers with experience in rice cultivation. They provide services to farmers in the Mekong River delta, using XAG's drones to handle pests, sow seeds, and spread fertilizers.
XAG's agricultural drone is well credited for the level of its automation and precision, but what impresses KPT the most is the company's agricultural ecosystem. From remote sensing drone to unmanned ground vehicle, XAG has also developed multiple types of products to focus on farmer's various needs. More technologies will be applied on farm to yield a bright future.