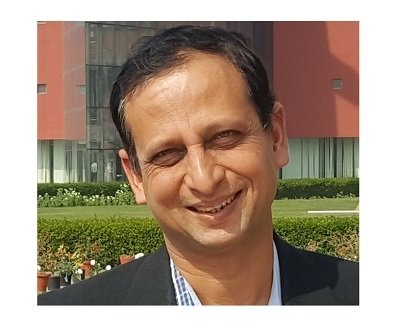 Hemendra MathuR, Venture Partner, Bharat Innovation Fund; Co-founder, ThinkAg and Chairman, FICCI task force for agri startups
Indian agriculture needs to adapt innovations to become sustainable and profitable for farmers. There are multiple challenges facing Indian agriculture including climate change, water stress, and deterioration of soil health, price volatility and farmer's lack of motivation to continue farming. Climate risks are more pronounced in the form of high temperatures, flash floods, delayed / erratic monsoon, shifting cropping patterns, depletion of water table, nutrient deficiency in the soil adversely impacting productivity and farm incomes.
There are estimated to be about 150 million farmers in India with the majority of them (more than 85 per cent) owning less than two hectares of farmland. A farmer with average land holding of about one hectare earns gross income of about Rs 120,000 to meet his personal, family and occupational needs. Farmers are often left with little surplus for productive investment in new age solutions.
As demonstrated by about 1300 plus agritech startups, innovations can go a long way in improving farm economics with improved yield, reduced cost of inputs and empowering farmers to de-risk against commodity price fluctuations, monsoon failures, yield loss etc. The growing breed of agri-entrepreneurs is working towards improving farmer access to markets, quality inputs, institutional credit, and insurance to derisk farming.
Indian startups are building models to derisk farming through following six interventions:
Demand driven and tech enabled aggregation and distribution of farm produce from point of collection to consumption (examples:Bigbasket, Innoterra, WayCool, Suri Agrofresh, Agrowave, Hesa, DeHaat, SuperZop, Agribolo, SMP Agro, Licious, Captain Fresh, Numer8, AquaConnect, Mango Dairies, Oxecart, Greenikk, Krishi Sahyog, Agrigator). Majority of models are B2B targeted at
institutional buyers, modern trade, Horeca, though direct to consumer models (D2C) are also picking up especially during pandemic.
Building near-farm storage, warehouse and processing units to reduce food loss with access to post-harvest finance and market linkage through digital and physical modes (examples: Our Food, S4S Technologies, Agri Bazaar, Arya.ag, Origo, Ergos, Promethean, Inficold, Whrrl). Micro-warehousing and farm level processing is likely to gain momentum with increasing demand for value added foods.
Optimise the use of agricultural inputs and enable delivery to farmers based on farm and crop diagnostics (examples: Agrostar, BigHaat, Behtar Zindagi, Unnati, Gramophone, Freshokartz, Plantix, Hesa, EF Polymer, Bharat Rohan). The last mile delivery and need for multiple compliances to store and sell agri inputs are some of the bottlenecks to scale.
Reduce labour cost and dependence through mechanisation through the pay-per-use model and innovative mechanical tools (examples: Sickle innovations, Distinct Horizon, Kamal Kisan,
Mera Tractor, Cellestial Tractors, Tractor Junction, Khetibadi, Flybird, Toolsvilla). There is a huge opportunity in building smart affordable multipurpose mechanical tools at one end and on the other end to build high end robotics and computer vision models to bring efficiency in doing multiple farm operations.
Farmer advisory and data driven crop monitoring / precision farming to reduce cost of production and crop loss: Farm advisory using data collected from the farm on soil, crop and weather using AI/ML tools is becoming mainstream, though monetisation of such models are still evolving (examples: SatSure, RMSI, CropIn, Mantle Labs, Stellapps, Krishi Tantra, AgRisk, Skymet) Agri fintech to reduce the cost of capital and make insurance available to farmers: Data and digitisation is the precursor to innovative farmer and value chain financing models which typically enables farmer KYC, onboarding, and digital tools for risk assessment. Many of these models continue to be phygital. Some of them are now building and distributing insurance products. (Examples: Samunnati, Agrifi, Jai-Kisan, GreyMatter Technologies, IBISA, Gramcover).
These models have been catalytic in improving farm economics to the tune of Rs 10,000 to Rs 50,000 per hectare, depending on the crop through reduction in input, labour, water cost and improving incomes through buyer discovery and value addition. With the number of agritech startups likely to touch 10,000 in the next few years, it is possible that almost 80-90 per cent of farmers in India will have access to these solutions in time to come.