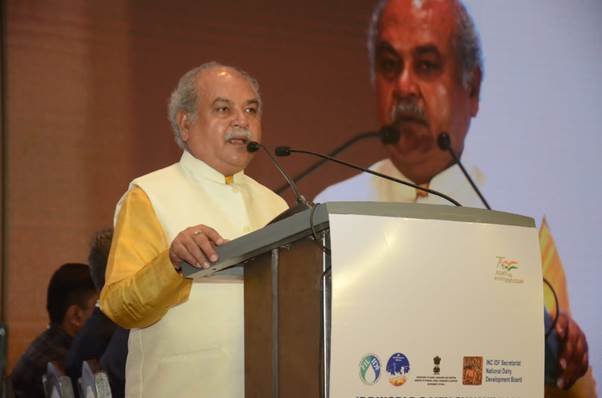 A special session on Feed, Food and Waste was held under the chairmanship of Union Agriculture and Farmers Welfare Minister Narendra Singh Tomar on the third day of the International Dairy Federation's World Dairy Summit in Greater Noida. He drew the attention of the delegates from across India and abroad towards the challenges of Agriculture and Dairy sectors and spoke about working together on common issues. 
Mainly, there is a need to work on how to ensure adequate availability of fodder and what can be done towards this objective.
Stressing on 'Waste to Wealth Management' by all means, Tomar said that normally waste is not disposed properly, whether it is the crop stubble or the disposal of fruits and vegetable waste in homes, converting them into wealth is the need of the hour.
Giving the example of the Decomposer which is Invented by the Pusa Institute, which increases the productivity of the farm and keeps fodder available for the cattle as well. Tomar says there is a need to work in this direction on a large scale.
There is also a need to pay attention on creating awareness about how cattle get food and said that cow dung is also a waste. The basic spirit behind all this is to benefit the farmers.