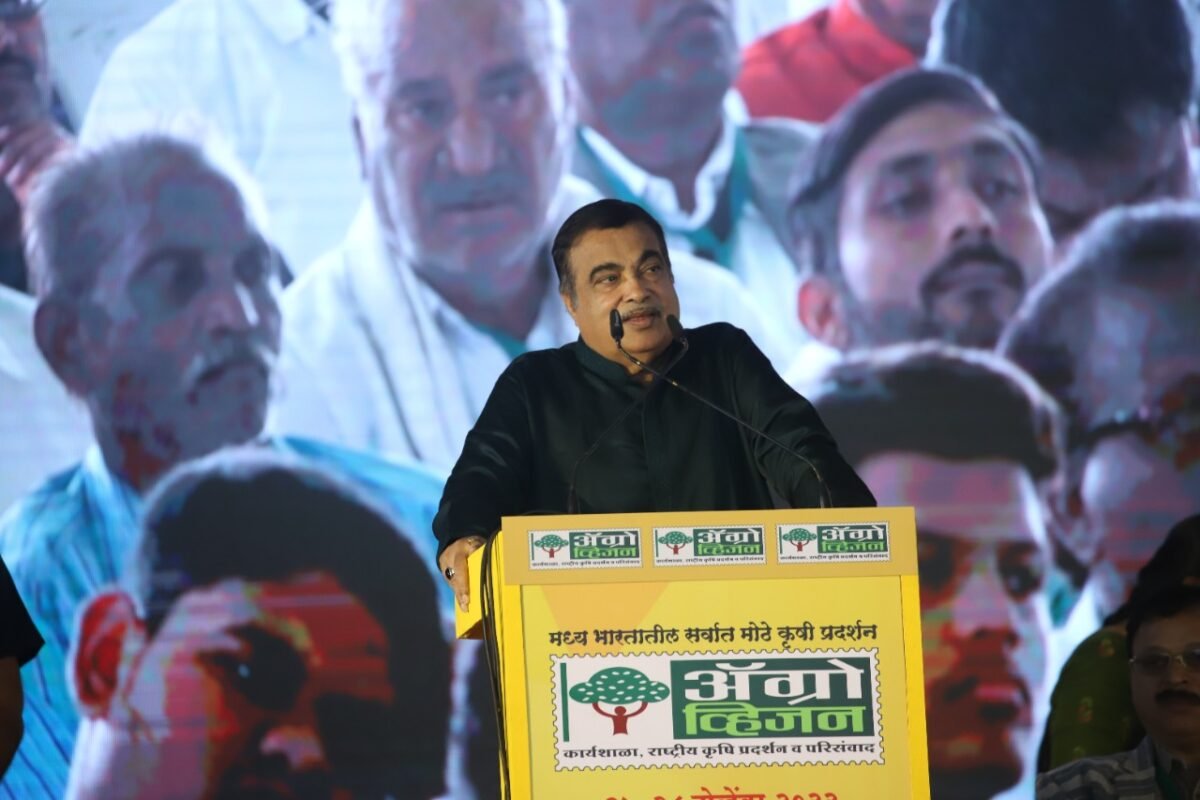 With the help of Agrovision, a permanent market will be developed for organic farm products at the Convention Centre.
India's first International Convention centre for Agriculture in the name of former Agricultural Minister Dr Punjabrao Deshmukh will be set up at the Grounds of Punjabrao Deshmukh Agricultural University in Nagpur. A proposal of 150 corers rupees has been sent to the Union Agriculture Ministry. Nitin Gadkari, Union Minister Road Transport and Highways announced this on Friday in Nagpur. He was speaking at the inaugural function of the '13th Agrovision' central India's largest agricultural exhibition in Nagpur. Chief Minister of Madhya Pradesh Shivraj Singh Chauhan was the chief guest of the function. In the four days of Agro exhibitions around 450 stalls have been set up and a wide range of workshops on various topics will be held with the main conference. The theme of this year's Agro Vision is 'Food Fodder and Fuel'- Agriculture of the future.
Gadkari said, "Farmers from Vidarbha will get all the information about the training of the agriculture sector, at the convention center and farmers can take benefit of this and can increase their income. With the help of Agro Vision, a permanent market will be developed for organic farm products." He added.
Indian oil has launched two plants in Panipat one is producing ethanol and the other is a bio-bitumen plant from rice straw. The production capacity of the ethanol plant is 1 lakh liter and 150 tonnes of bio-bitumen per day. If India began producing 80 lakhs tonnes of bio bitumen from rice straw, there is no need to import bio bitumen.
Gadkari added this is a big change in northern India specifically Punjab, Haryana, and Uttar Pradesh where the burning of rice straw causes pollution. Now instead of burning, rice straw will be used to produce ethanol and bio bitumen. The roadways department requires bio-bitumen, around 50 lakh tonnes of bitumen is manufactured in India, and we import 25 lakh tonnes of bitumen. Indian Oil setting up one more plant of bioethanol in Assam. Ethanol can be produced from bamboo, and farmers will become energy providers and will not remain food providers.
Gadkari also informed that all vehicles belonging to the Indian Government which has completed 15 years will be scrapped, and a policy regarding this has been sent to the states. All states should apply the policy.
President of Agro Vision Foundation, Organising Secretary of Agro Vision and Publisher of Agro Spectrum Ravi Boratkar said, for the last 13 years Agro Vision exhibitions have been organised to educate and train farmers. Various workshops have been conducted during the four days of the Agro Vision exhibition. Farmers are being educated on Modern technology in farming, vertical farming, organic farming, poultry, and sericulture at Agro Vision.
Member of Parliament Krupal Tumani, MLA Samir Meghe, Pankaj Bhoir, Vice Chancellor of Punjabrao Deshmukh Agricultural University Dr Sharad Gadakh, SGM of State Bank of India Shantanu Pendasy, Shantanu Gupta from IOCL, Gitish Gandhi, C.D. Mayee and other delegates were present at the occasion.