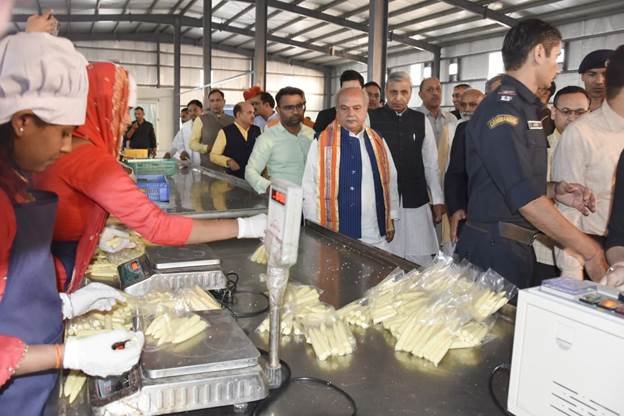 New integrated pack houses will help farmers in increasing horticulture export
Union Agriculture and Farmers Welfare Minister Narendra Singh Tomar the inaugurated 30 Integrated Pack Houses across the state at Aterna village in Sonipat (Haryana). Haryana's Agriculture Minister Dalal welcomed Union Agriculture Minister Tomar in Haryana. He said that Haryana is a state of farmers. No other state has as many schemes as the Haryana government has brought for the farmers. This includes Crop Insurance Scheme, Bhavantar Bharpayee Yojana, purchase of crops on MSP, proper arrangement of mandis etc. He said that under the guidance of Prime Minister Narendra Modi and Chief Minister Manohar Lal, pack houses have been established in the state through FPOs. This will benefit the farmers.
Dalal said that cold stores, pack houses are being established in the state. The world's largest vegetable market is being set up in Gannaur, which will be spread over 5500 acres. It will cost Rs 10,000 crore to make it. This will provide employment to thousands of people.
Tomar said that India is an agricultural country. The importance and priority of agriculture has been accepted by the Central and Haryana Government. History is witness that the village economy has supported in the recession. The world had stopped at the time of Corona. Knowing the problems of the farmers, the central government bought the crop by setting up more purchase centres. That year the sowing of the farmers crop was more than the previous years. The export of agricultural products stood at Rs.4.4 lakh crore.