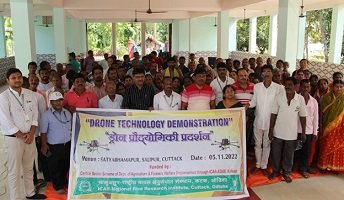 1000+ farmers participated in demonstration programmes
ICAR-National Rice Research Institute, Cuttack held a series of demonstrations on Drone Technology in different villages of Cuttack district covering 108 acres of rice crop area in 9 villages belonging to 4 blocks of Cuttack district, Odisha. More than 1000 farmers participated in demonstration programmes and farmers were briefed on usefulness and mechanism operation of drone technology especially in crops like rice considering its wetland nature and amount of pesticides being applied.
Department of Agriculture and Farmers welfare, Ministry of Agriculture and Farmers' Welfare, Government of India has sanctioned central assistance to ICAR for demonstrating Drone Technology for implementation of Component number 1 under Sub Mission on Agricultural Mechanisation (SMAM).
Under this mission, it has been directed to conduct large scale demonstrations to promote use of Drone Technology in agriculture.