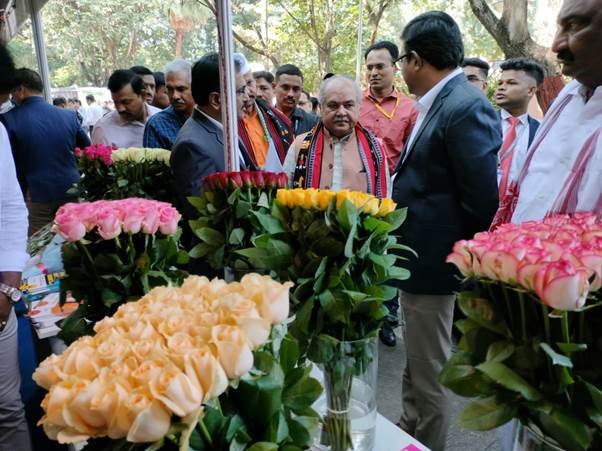 At the recently held national conference 'Expansion of Horticulture Value Chain in India' held at Vaikunth Mehta National Institute of Cooperative Management in Pune, Narendra Singh Tomar, Union Minister for Agriculture and Farmers Welfare said that to promote farming and to raise the standard of living of farmers, schemes like Pradhan Mantri Kisan Samman Nidhi (PM-Kisan), Agriculture Infrastructure Fund of Rs 1 lakh crore, Digital Agriculture Mission, Drone Technology, e-NAM, PM irrigation schemes are being implemented. The programme was organised by the Union Ministry of Agriculture and Farmers Welfare and attended by people related to the horticulture field including farmers, FPOs, start-ups and bankers were present.
Tomar in his address said that if the villages are prosperous and self-reliant, then the country itself will become prosperous and self-sufficient. Tomar said that agriculture is our priority and the backbone of our economy. He said that there is a need to pioneer the agriculture sector because the traditional economy of agriculture and villages is the biggest strength of the country. No matter how adverse the situation, agriculture always proves helpful for our economy. He said that the merchant-entrepreneur should give the maximum price of agricultural produce to the farmer. This will not only make our farmers prosperous but also inspire the next generation to do farming.
Tomar said, Prime Minister Narendra Modi, has promoted indigenous technology in agriculture in the last 8 years. Modi has not only talked about increasing the income of farmers but also taken several measures by associating State governments and by directly involving farmers.
He also said that today youth, retired employees, and people associated with the corporate sector are also coming forward for farming. People's interest in organic and natural farming is also increasing. There has been a record export of agricultural products worth Rs 4 lakh crore.
Tomar said that today India is self-sufficient in food grains. India ranks first or second in the world in most agricultural products. Along with food crops, horticulture cultivation is also being promoted. For small farmers, the Central Government started the Horticulture Mission and scheme of FPOs. Efforts are being made that small farmers should do farming together so that they get maximum benefits. By uniting in the FPO and cluster system, the farmers will not have to go to the traders, but the traders will be forced to come to them to buy products.
Tomar said along with the production of food grains, the horticulture sector, especially the cultivation of vegetables and flowers, plays an important role in increasing the income of the farmers. It is necessary to pay attention to the cultivation of fruits, vegetables and millet because only food grains will not work for the nutrients.