RP Agriculture Research and Innovation Centre designated as the lead centre of the newly announced Urban Agriculture Centre of Innovation, in partnership with Temasek Polytechnic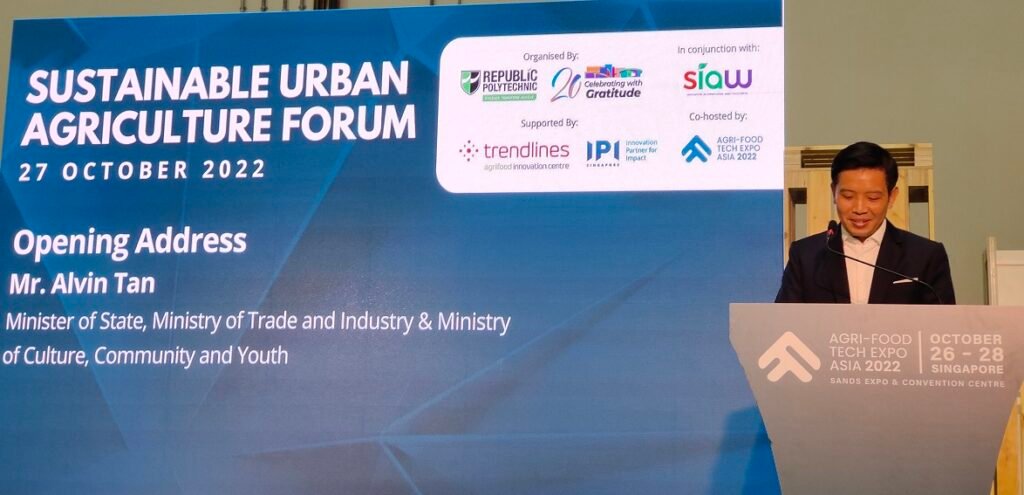 Singapore's Republic Polytechnic (RP) organised its inaugural Sustainable Urban Agriculture Forum on October 27, 2022, in collaboration with IPI Singapore and the Trendlines Agrifood Innovation Centre at the grandeur Agrifood Tech Expo Asia 2022.
By sharing perspectives and trends on urban agriculture, food security, and sustainability, the forum brought together the Asia Pacific agriculture ecosystem. The event was graced by Minister of State for Trade and Industry & Culture, Community and Youth, Mr Alvin Tan, who launched the Urban Agriculture Centre of Innovation (UA COI), established with support from Enterprise Singapore (EnterpriseSG).
RP's Agricultural Research and Innovation Centre (AGRI Centre) is the lead for the new UA COI and is formed in collaboration with Temasek Polytechnic's (TP) Centre for Research & Opportunities in Plant Science (CROPs). The UA COI will help drive research and development (R&D) and build meaningful partnerships across the urban agriculture value-chain. It will also help develop innovation capabilities in small and medium enterprises (SMEs) in this sector. The UA COI will also contribute to the agritech startup ecosystem and value-add to the wider economy.
Mr Yeo Li Pheow, Principal/CEO, Republic Polytechnic said, "As a small city-state with limited resources, it is paramount for us to ensure that Singapore remain innovative in spurring capabilities in the agritech sector to ensure long-term food security. In support of Singapore's 30 by 30 food resilience goal, we are delighted to be appointed by Enterprise Singapore as a Centre of Innovation for Urban Agriculture. Together with our agritech partners, RP will continue to leverage its multi-disciplinary and agritech capabilities to develop creative solutions for the industry."
Ms Dilys Boey, Deputy Chief Executive Officer (Industry Clusters), EnterpriseSG, said, "By tapping the combined expertise of Republic Polytechnic and Temasek Polytechnic, we will be able to equip local agritech enterprises with innovative solutions in areas like plant genetics, crop health and smart farming. This will pave the way for Singapore to become a leading agri-food tech innovation hub in Asia and accelerate the development of solutions required to address pressing food security, health and nutrition needs both regionally and globally."
The UA COI will assist local farms in their research and development (R&D) efforts, particularly in enhancing crop health, improving crop yield and enabling smart farming. It will also help these companies accelerate their business growth through internationalisation, move up the value chain and collectively tackling global resource constraints.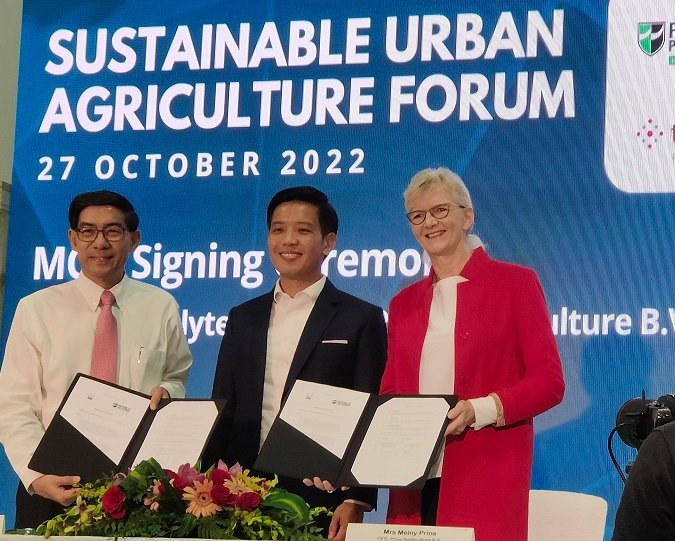 At the event, RP also signed three memoranda of understanding (MOUs) with Priva Group, Ripe Fresh and Sembcorp Industries. Through these MOUs, RP will explore new methods to drive sustainable farming, and utilise precision climate control technology to improve plant growth and quality. Additionally, these partnerships will present opportunities for RP to test-bed new technologies such as high pressure aeroponics that minimise water consumption when cultivating plants. The MOUs will also facilitate training and industrial attachment opportunities for RP's staff and students.
Mr Yeo added, "Today's forum is an example of our continuing efforts to engage with the industry, deepen existing partnerships whilst forging new ones across the urban agriculture and sustainability industry sector. We are pleased to partner Priva Group and Ripe Fresh while renewing our longstanding collaboration with Sembcorp Industries."
Speakers from the agriculture industry, government agencies and academia shared their insights on how to sustainably drive food supply resilience through urban agriculture. They also covered the latest trends in sustainable farming and the viability of adopting them domestically and regionally.
Delegates viewed an exhibition showcasing agritech projects completed by RP's staff and students. One of the projects on display was an artificial intelligence (AI) enabled growth light solution that reduces operating costs while increasing crop yield. Using predictive algorithms, end-users such as farmers and scientists can devise the ideal formula to optimise crop growth.