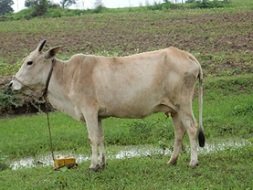 Registered indigenous breeds now totals 212
ICAR-NBAGR has registered ten new breeds of indigenous livestock species in the country. These breeds are -Kathani cattle (Maharashtra), Sanchori cattle (Rajasthan) and Masilum cattle (Meghalaya); Purnathadi buffalo (Maharashtra); Sojat goat (Rajasthan), Karauli goat (Rajasthan) and Gujari goat (Rajasthan); Banda pig (Jharkhand), Manipuri Black pig (Manipur) and Wak Chambil pig (Meghalaya). Accession numbers were also assigned to these breeds by the Bureau.
 Earlier, Breed Registration Committee (BRC) in its 10th meeting held on August 31, 2022, approved the registration of these livestock breeds of different states. After including these breeds, total number of registered indigenous breeds are 212, including 53 for cattle, 20 for buffalo, 37 for goat, 44 for sheep, 7 for horses & ponies, 9 for camel, 13 for pig, 3 for donkey, 3 for dog, 1 for yak, 19 for chicken, 2 for duck and 1 for geese.
Newly registered breeds include the following:
Kathani is dual-purpose cattle. It is distributed in mainly Vidarbha region of Western Maharashtra. The Kathani cattle possesses good draft ability, suited to marshy land for paddy cultivation.
Purnathadi buffalo is distributed in Vidarbha region of Maharashtra state. Milk yield ranges from 353 to1533 kg in a lactation. Milk fat percentage ranges from 6.5 to11.5.
Sanchori is a medium sized, good milk producing cattle. It is distributed in Jalore district of Rajasthan. Average daily milk yield is about 9 kg with 2769 kg milk in a lactation.
Masilum is a small sized but well-built and sturdy cattle of Meghalaya. It is well adapted to the hill ecosystem.
Sojat is a large sized dual-purpose goat; reared for both meat and milk purpose. Sojat is mainly distributed in Pali, Jodhpur, Nagaur and Jaisalmer districts of Rajasthan. Average adult weight is about 60.0 kg in males. Average milk yield in female is about 1 kg per day.
Karauli is a medium to large sized goat, reared for meat and milk. It is distributed in Sawai Madhopur, Kota, Bundi, and Baran districts of Rajasthan.
Gujari goat is a large sized, dual-purpose breed of Rajasthan.
Banda pig is native of Jharkhand, mainly reared for pork and manure. Animals are black coloured, having short and erect ear. These animals are having medium to short bristle on neck with a long and concave snout.
Manipuri Black is native pig of Manipur state, mainly reared for meat.
Wak Chambil is a small sized pig with round and pendulous belly. It is mainly distributed in Garo Hills of Meghalaya.