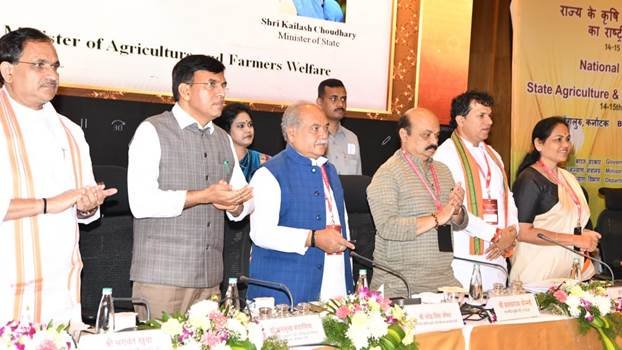 The grant will benefit about 3.5 lakh farmers leading to the goal of setting up of 10,000 FPOs.
The Union Minister of Agriculture and Farmers Welfare, Narendra Singh Tomar released an equity grant of more than Rs 37 crore to 1,018 FPOs under the CSS which will benefit about 3.5 lakh farmers leading to the goal of setting up of 10 thousand FPOs. The Producer Members' equity, supplemented by a similar equity grant from the Central Government, would strengthen the financial base of the FPOs and help them to avail loans from financial institutions for their projects and working capital requirements for business development. Under the scheme, up to Rs. 18 lakh financial aid per FPO will be provided for a period of 3 years. In addition, a loan of Rs. 2,000 for each farmer member of the FPO within a limit of Rs.15 lakh per FPO will be available. There is also a provision of project loan or equivalent grant from any eligible lending institution of up to Rs.2 crore per FPO.
Besides Tomar, the dignitaries present included the Chief Minister of Karnataka, Basavaraj Bommai, Union Minister of Chemicals & Fertilizers and Health & Family Welfare, Dr Mansukh Mandaviya, Union Ministers of State for Agriculture and Farmers Welfare, Shobha Karandlaje and Kailash Choudhary, Agriculture Minister of Karnataka, BC Patil, State Ministers, Union Agriculture Secretary Manoj Ahuja and other senior officers.
Coffee Table Book on e-NAM
The Coffee Table Book released by the Agriculture minister showcases the endeavor and journey of e-NAM in bringing transparency and efficiency in the trade of agricultural products in the country through innovation and technology. Coffee Table Book on e-NAM focuses on showcasing the benefits and success of farmers and stakeholders by facilitating digitization of APMC mandis.