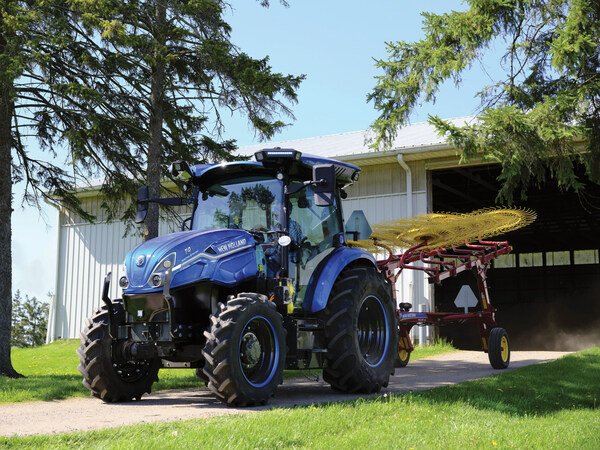 The T4 Electric Power offers powerful, emission-free and silent energy power with high torque and fast response achieved at the lowest speeds, promoting a new level of driving experience
For 2024, New Holland Agriculture is introducing the first all-electric utility tractor with autonomous features: the T4 Electric Power. This cutting-edge tractor opens a new class in the market, Utility Electric, focused on offering solutions for more efficient field operations. The T4 Electric Power addresses current farming challenges, such as increased total cost ownership and labour shortage, while delivering upon New Holland's unwavering commitment to helping customers build more sustainable agriculture for this generation and beyond.
The T4 Electric Power is a game-changing innovation that ushers in a new era of modern agriculture. An ideal solution for lower horsepower field operations, it is suitable for multiple applications, such as mixed farm, hay and forage, dairy, livestock, municipality, greenhouse and speciality crops (vegetable and orchard). The tractor is the latest development in New Holland's strategic plan for electrification and the newest addition to the brand's lineup of alternative energy sources powered equipment, like the T7 Methane Power LNG (Liquified Natural Gas) and the T6.180 Methane Power. Equipped with a state-of-the-art lithium-ion battery pack, the T4 Electric Power delivers gradual power and continuous torque achieved at the lowest speeds, ensuring a completely new driving experience and seamless operation during loader work cycles and daily farm routines.
"This tractor is a significant step forward for growers, producers and municipalities. The T4 Electric Power addresses a number of challenges they are facing every day on their operations," states Lena Bioni, product marketing manager for New Holland Agriculture North America. "What New Holland is bringing to our farmers is a convergence of technology – electric propulsion, autonomous features, better performance – in the body of a utility tractor that's setting the stage for a more efficient, sustainable and resilient future our customers are striving for."