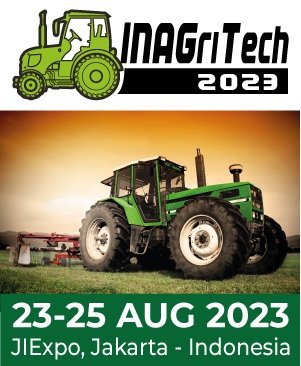 INAGRITECH, INAGRICHEM, SUGARMACH INDONESIA, PUMP&VALVES INDONESIA, INAPALM ASIA: Showcase of Indonesia's Agricultural, Chemical, Sugar, Pump, and Palm Oil Industries
Event Overview:
INAGRITECH, along with its co-located events, is a three-day event that is set to take place at the prestigious Jakarta International Expo (JIExpo) venue. With each exhibition having its own significance, the amalgamation provides a unique opportunity for professionals, businesses, and enthusiasts to explore a diverse array of products, technologies, and services.
The 9th edition of INAGRITECH: Advancing Agricultural Technology
INAGRITECH focuses on the latest advancements and innovations in the agricultural sector. From smart farming technologies to precision agriculture equipment, the exhibition aims to improve productivity, efficiency, and sustainability in the farming industry. Participants can expect to witness cutting-edge machinery, crop protection solutions, irrigation systems, and farm management software that will empower farmers to meet the challenges of the modern world.
The 7th edition of INAGRICHEM: Revolutionizing the Chemical Industry
INAGRICHEM is dedicated to showcasing the chemical sector's contributions to agriculture and other industries. This segment will highlight agrochemicals, fertilizers, pesticides, herbicides, and various chemical formulations that play a pivotal role in enhancing crop yield and quality. Manufacturers, distributors, and researchers will come together to exchange knowledge and explore partnerships that can drive the chemical industry forward.
The 5th edition of SUGARMACH INDONESIA: Sweetening the Sugar Industry
Indonesia is a major player in the global sugar industry, and SUGARMACH INDONESIA aims to accentuate this position. This segment of the exhibition will feature state-of-the-art machinery, equipment, and technologies related to sugar processing, refining, and production. It is a must-visit for sugar industry professionals seeking modern solutions to optimize their operations and deliver high-quality sugar products.
The 4th edition of PUMP&VALVES INDONESIA: A Hub for Pump and Valve Technologies
PUMP&VALVES INDONESIA brings together the most comprehensive range of pumps, valves, and related equipment. These vital components are essential for various industries, including agriculture, oil and gas, water management, and manufacturing. This exhibition will allow attendees to explore the latest pump and valve technologies and engage with industry experts to address their specific needs.
The 9th edition of INAPALM ASIA: Embracing the Palm Oil Sector
The palm oil industry is a significant economic driver for Indonesia, and INAPALM ASIA serves as a platform to support its growth and sustainability. Visitors will have the chance to connect with key players in the palm oil sector, discover innovative harvesting and processing techniques, and explore eco-friendly practices that promote responsible palm oil production.
Conclusion:
INAGRITECH, INAGRICHEM, SUGARMACH INDONESIA, PUMP&VALVES INDONESIA, and INAPALM ASIA collectively form an unparalleled opportunity for various industries to converge, share knowledge, and foster growth and development. This grand showcase of agricultural, chemical, sugar, pump, and palm oil technologies are an event not to be missed for professionals and businesses looking to stay at the forefront of their respective sectors. As Indonesia continues to assert its position in the global market, these exhibitions play a crucial role in driving innovation and sustainability across multiple industries.
We invite you to come & visit us in 23 – 25 Aug 2023 at JIExpo, Jakarta – Indonesia where we will feature INAGRITECH 2023, INAGRICHEM 2023, SUGARMACH 2023, INAPALM ASI 2023 and PUMP & VALVES 2023.
Pre-Register at : https://reg-gemindonesia.net/
For further details contact at info@gem-indonesia.com or direct call: +6282135958938
website: https://inagritech-exhibition.net/, https://www.inagrichem-exhibition.net/, https://www.sugarmach-indonesia.net/, https://www.inapalm-asia.net/ and https://www.pump-valve-indonesia.net/