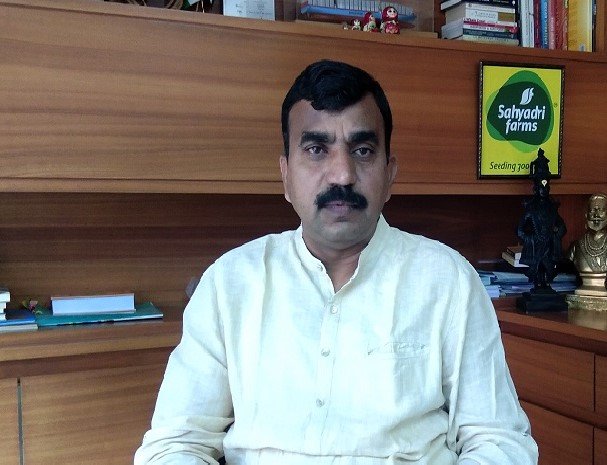 Vilas Shinde, Chairman and Managing Director of Sahyadri Farms Post Harvest Care Limited
Founded in 2010, Sahyadri Farms Post Harvest Care Limited, based in Nashik, has emerged as the largest exporter of grapes in India. Remarkably, Sahyadri accounts for nearly 17 per cent of all grapes exported from the country. In 2022, the company clocked a revenue of nearly Rs 800 crore. To further strengthen its operations, it recently raised Rs 310 crore in growth capital from a group of impact-focused investors including Incofin, Korys, FMO and Proparco. Besides, Sahyadri Farms, India's largest integrated value chain owned by small and marginal farmers, announced the introduction of Employee Stock Ownership Plans (ESOPs) worth Rs 45 crore for its employees in 2023. This forms part of the total ESOPs pool amounting to Rs 70 crore. Vilas Shinde, Chairman and Managing Director of Sahyadri Farms Post Harvest Care Limited expressed his insights on the horticulture value chain in India during an interview with AgroSpectrum. Edited excerpts;
How is Sahyadri Farms contributing to the horticulture value chain in India?
As the horticulture market in India is worth Rs 1 lakh crore, there is a significant opportunity for small and marginal farmers to increase their per-acre production and income. Sahyadri Farms has developed an ecosystem focused on the horticulture sector in Maharashtra.
At Sahyadri Farms, we have had a clear focus on horticulture crops, from the beginning. In the first phase, we concentrated on a single crop – grapes and gradually developed an ecosystem for grapes that includes all stakeholders from seed to last-mile delivery. Today, Sahyadri Farms has become a leading exporter and producer of grapes in the international market. After grapes, we shifted our attention to eight other horticulture crops, including tomatoes, pomegranates, mangoes, sweet lime, oranges, bananas, sweet corn and cashews. For each of these crops, we are developing an ecosystem using the cluster farming approach and connecting small-scale farmers through the Farmer Producer Company (FPC) model. Additionally, we are one of the largest producers and processors of tomatoes, contributing to almost 50 per cent of all Kissan tomato ketchup, a brand owned by Unilever.
What is the role of the FPC model in the horticulture value chain?
The FPC model is basically a collective process. The FPC model plays a crucial role, especially for small-holder horticulture growers who may struggle to manage various aspects of the horticulture value chain at a small scale, such as new farm practices for increasing yield, marketing, post-harvest supply chain infrastructure, and logistics.
The FPC model is ideal for the horticulture value chain as it provides support to farmers at every step, starting from providing high-quality inputs at reasonable rates to connecting farmers to market linkages.
By ensuring that farmers own all aspects of the horticulture value chain, the FPC model allows profits to be directly shared with farmers. This model is based on collective efforts by the farmers, ensuring fair prices for their produce in the export market.
What major changes have you observed in the horticulture supply chain since the COVID-19 pandemic?
The horticulture sector has witnessed significant changes in its supply chain, distribution networks, Direct to Consumer model (D2C) models, and new digital platforms aiming to connect all stakeholders of the horticulture industry under one roof.
Actually, the horticulture supply chain in India is currently in an experimental phase. Many startups are working on providing high-quality and residue-free produce through better cold storage and logistics options. These startups are leveraging digital technology and innovations to offer best-in- class services. Although many supply chain startups may not be generating substantial profits at present, the horticulture sector is expected to reap the benefits of digital technology and innovations in the next 5-10 years.
Another significant change is observed in market linkages. Previously, farmers would often receive lower prices for their produce in traditional mandis/ markets. But during the COVID-19 pandemic, many farmers started selling their produce directly to consumers through various platforms. The direct access to the consumers has made farmers more aware of consumer expectations, and market preferences, as well as demand for specific crops. Consequently, traditional farming methods, crop patterns, and adherence to standard food safety protocols have undergone changes, which was missing earlier, as farmers strive to meet consumer expectations.
To read more click on : https://agrospectrumindia.com/e-magazine