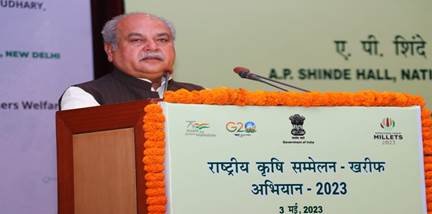 National targets set for food grains at 3320, pulses at 292.5and oilseeds at 440 lakh tonnes for the year 2023-24
Narendra Singh Tomar, Union Agriculture Minister, inaugurated National Conference on Agriculture for Kharif Campaign 2023-24 in New Delhi. Addressing Conference, he emphasised that agriculture remains the prime pulse of the Indian economy and is at the core of the country's socio-economic development. It accounts for around 19 per cent of the GDP and about two-thirds of the population is dependent on the sector.
Tomar expressed happiness that India's agriculture sector has been witnessing robust growth with an average annual growth rate of 4.6 per cent over the last six years. This has enabled the agriculture and allied activities sector to contribute significantly towards the country's overall growth, development and food security. As per 2nd Advance Estimates (2022-23), the production of foodgrains in the country is estimated at 3235 lakh tonnes which is higher by 79 lakh tonnes than the production of foodgrains during 2021-22. Record production of rice, maize, gram, pulses, rapeseed and mustard, oilseeds and sugarcane is estimated. The total production of sugarcane in the country during 2022-23 is estimated at record 4688 lakh tonnes which is higher by 1553 lakh tonnes than the average sugarcane production. As per the 3rd Advance Estimates of Horticulture, a record 3423.3 lakh tonnes of horticultural production are estimated in 2021-22 which is 77.30 lakh tonnes higher than production of 2020-21.
The objective of this conference was to review and assess the crop performance during the preceding crop seasons and fix crop-wise targets for the Kharif season in consultation with State Governments, ensure the supply of critical inputs and facilitate the adoption of innovative technologies with a view to enhancing production and productivity of the crops. The priority of the government is agro-ecological based crop planning for the diversion of land from excess commodities like rice and wheat to deficit commodities like oilseeds and pulses and high-value export-earning crops. The special Mustard programme was initiated during Rabi 2020-21 which has brought the most spectacular results. Mustard production has jumped by 40 per cent from 91.24 to 128.18 lakh tonnes in the last 3 years. The productivity saw an 11 per cent increase from 1331 to 1447 kg/ha. The area under rapeseed & mustard enhanced by 29 per cent from 68.56 lakh ha in 2019-20 to 88.58 lakh ha in 2022-23. Timely action by central and state governments made this remarkable achievement possible.
The Conference set the national targets for the production of foodgrains and other commodities. National targets for total food grain production are set at 3320 lakh tonnes for 2023-24. The target for production of pulses has been fixed at 292.5 lakh tonnes compared to 278.1 lakh tonnes this year and oilseeds production will be increased from 400 to 440 lakh tonnes in 2023-24. Total Shree Anna production has to be increased from 159.1 lakh tonnes in 2022-23 to 170.0 lakh tonnes in 2023-24. The strategy would be to increase area through inter-cropping and crop diversification and productivity enhancement through the introduction of HYVs and the adoption of suitable agronomic practices in low-yielding regions.