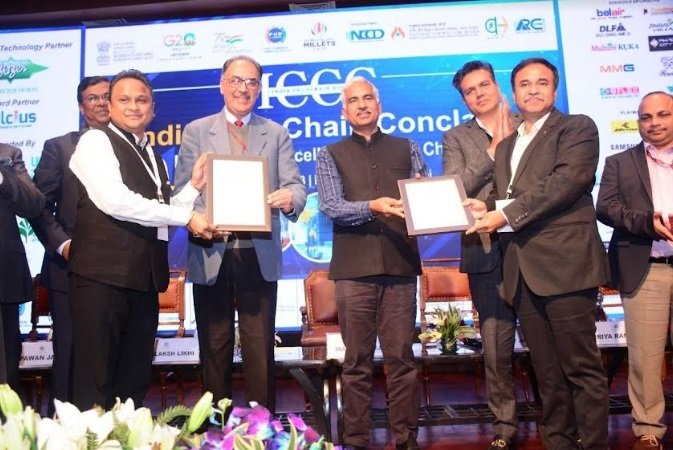 Innoterra received the cluster development program grant at the National Conference India Cold Chain Conclave in New Delhi, India
The Swiss-Indian agri-tech platform company, Innoterra, announced that it has won the prestigious grant award of $6.3 million from the National Horticulture Board (NHB), Government of India.
The grant award letter was presented to Dr Anup Karwa, Director of Input Marketplace. The selection process was steered by national agencies. It involved several rigorous review rounds with senior authorities from NABARD (National Bank for Agriculture and Rural Development), APEDA (Agricultural and Processed Food Products Export Development Authority) and ICAR (Indian Council of Agricultural Research) and took 7 months to complete. The grant is given to Innoterra for a 4-year tenure project to strengthen the banana cultivation supply chains in the Anantapur cluster in Andhra Pradesh, India (AP). During the occasion, Innoterra received high praise for its track record in perishables in India.
Speaking about the award, Dr Anup Karwa said, "We are honoured to receive this prestigious grant from the Government of India. This win is a testimony to Innoterra's strong and growing market position in the agri-space in India. The grant mandates us to strengthen various facets of our supply chain from pre-production and post-harvest to logistics & marketing that will benefit many smallholder farmers in the coming years."
The Company's nutrition business comprising perishables, non-perishables, dairy and cattle feed is a foundation and springboard for the platform business. Launched in April 2022, Innoterra's platform connects the agricultural value chain with two powerful digital orchestration marketplaces. The input marketplace provides farmers with access to farm inputs and the output marketplace connects smallholder farmer households with retailers for offtake. Recently, Innoterra crossed the milestone of onboarding 327,300+ farmer households and 12,500+ retailers on its platform.