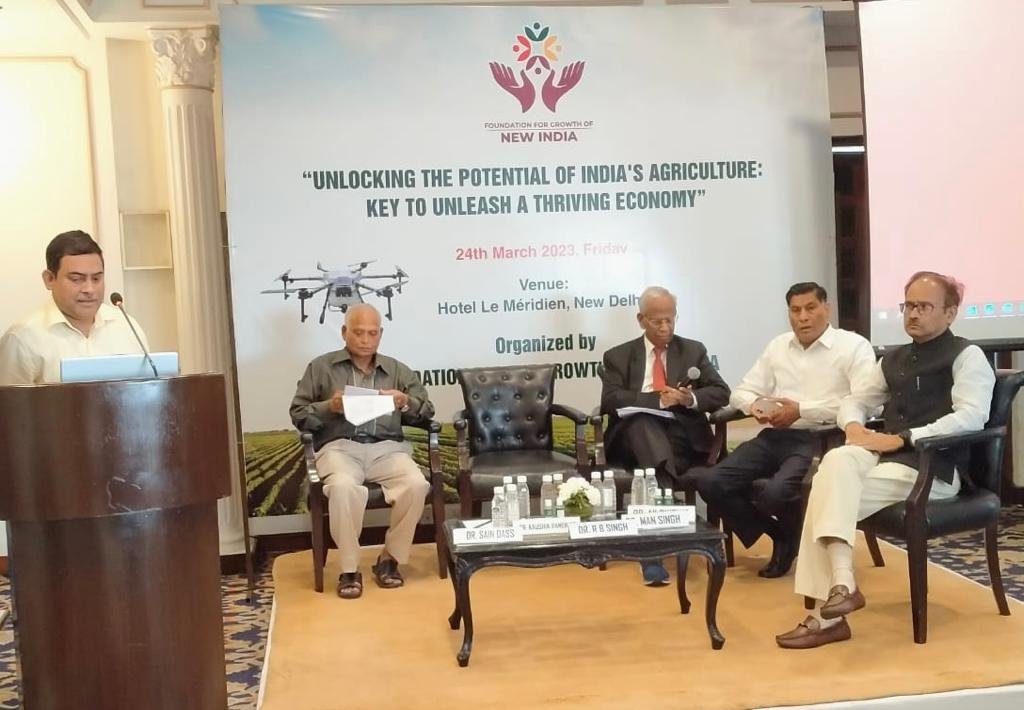 FGNI to organise 4 seminars this year to suggest measures for the betterment of small and marginal farmers
In the next 25 years, by the time India's Amritkal is complete, India will write a better and more spectacular story wherein the agriculture sector will play an important role, said Dr Himanshu Pathak, Director General, Indian Council of Agriculture Research & Secretary, Department of Agriculture Research and Education (DARE). He describes the coming together of centres, states, industry and Civil Society organisations in the welfare of the agriculture sector as a healthy thing, under the Ministry of Agriculture, Government of India.
He was speaking at a seminar in New Delhi on 'Unlocking the Potential of India's Agriculture: Key to Unleash A Thriving Economy' organised by the Foundation for the Growth of New India (FGNI).
Dr Pathak who himself was a farmer in his early growing-up years said that he feels the pain of India's farmers, particularly the small and marginal farmers.
Citing the recent applauds India has received from Bill Gates and various countries, he said, "We have come a long way from begging bowl in hands to self-sufficiency and second largest producer of food grains, however, if India is to be developed nation, most probably by 2047, it cannot happen without agriculture and contribution of small and marginal farmers."
Dr Pathak was joined by Dr R. B. Singh, Chancellor of Central Agricultural University, Imphal and President & Founding Member of FGNI and Shri R. G. Agarwal, Advisor, FGNI.
Dr R. B. Singh strongly pitched for making growth inclusive, sustainable, symmetric, high-performing and in line with the SDG goals of India.
R. G. Agarwal candidly spoke at length on a number of issues faced by Indian farmers, including the use of injurious pesticides imported from China which is damaging the soil and crops, lack of technology in hands of farmers, different treatment to fertiliser and pesticides by the government etc. and demanded free & competitive markets to maximise farmers' income, time-bound approval for researched based products used in agriculture, enabling policy initiatives & incentives for precision farming and advance IT tools for agriculture.
"India has a great potential to increase both production and export of food grains and crop chemicals. If we have a more enabling environment and policy support, India can easily be the leader in this space. Moreover, if we can do away with waste of food grains which is roughly 30 per cent, which is possible through technology, we will be prepared to meet our requirements in 2050 too, "said Agarwal.
Binod Anand, who spoke on the plight of small and marginal farmers, proposed to organise four deliberations on the issues faced by farmers. The same was agreed upon by all scientists and eminent personalities. DG ICAR Dr Himanshu Pathak also accepted to be a patron of the foundation.