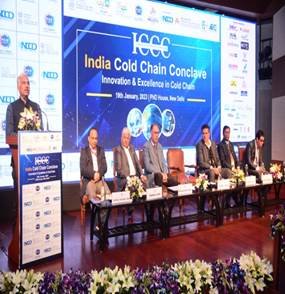 Manoj Ahuja, Secretary, Department of Agriculture and Farmers Welfare inaugurated conference as "India Cold Chain Conclave" in New Delhi
Ministry of Agriculture and Farmers Welfare, along with PHD Chamber of Commerce & Industry (PHDCCI) in association with National Centre for Cold Chain Development (NCCD) as a knowledge partner, organised a one-day exhibition and conference as "India Cold Chain Conclave" in New Delhi today. The conference was organised with the objective to bring together all the stakeholders on one common platform where they can contribute thoughts and ideas for the growth of industry in a sustainable manner and to explore ways of reducing post-harvest losses with relevant technologies. An exhibition was also organised concurrently to demonstrate Innovations and Excellence in Cold Chain Sector by industry leaders.
The Conclave and exhibition were inaugurated by Manoj Ahuja, Secretary, Department of Agriculture and Farmers Welfare. He said that Ministry of Agriculture recognises the importance of the cold chain industry in ensuring food safety, reducing food waste and increasing the shelf life of perishable products and ministry has set up an extensive outlay of policies and programmes to give strength to this sector. Technological innovation is crucial for the growth and development of the Indian Cold Chain industry. With the advent of advanced refrigeration and cooling systems, the industry is now able to store and transport goods at much lower temperatures, which helps to extend the shelf life of perishable products. This has led to an increase in the export of perishable goods from India, as the products can now reach international markets in better condition.
Abhilaksh Likhi, Additional Secretary (DA&FW) said that the Indian Cold Chain industry is expected to experience significant growth in the coming years. The increasing demand for perishable goods such as fruits, vegetables, and meat products, as well as the rise in e-commerce and online grocery sales, are driving this growth. As the demand for these goods continues to grow in India, the government recognises the need to support the development of the cold chain industry in order to ensure food security and public health.
Priya Ranjan, Joint Secretary (Horticulture) said that the Agriculture Ministry, under the dynamic leadership of Agriculture Minister, is working fast in understanding the new needs which are emerging on the cold chain front and we are progressing ahead with various programmes initiated to bring new developments in the cold chain sector.
During technical sessions, various issues relating to Logistics and cluster development to unlock Cold chain development prospects, Cold chain energy efficiency, Refrigeration technology and Importance of Internet of Things in Cold-chain etc were deliberated in detail by the delegates with the objectives to bring improvement of the development of cold-chain industry in sustainable manner.
The event was attended by other senior officers from the Ministry of Agriculture, Ministry of Food Processing Industries, APEDA, Bureau of Energy Efficiency etc. The conclave was also attended by over 250 participants/delegates belonging to Various Government Departments, Corporates, Technology Providers, Traders, Exporters, Researchers and other stakeholders from various parts of the country.