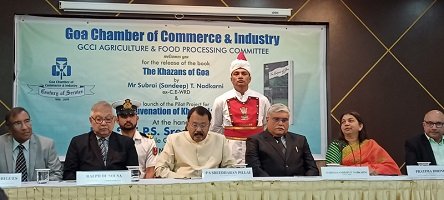 Project to benefit Goan farmers, agriculture and landscape
P S Sreedharan Pillai, Governor of Goa, has launched a research project for Rejuvenation of Khazan lands (coastal saline soils) of Goa being implemented by ICAR-CCARI, Goa. The programme was organised by the Agriculture and Food Processing Committee of Goa Chamber of Commerce and Industry (GCCI).
In his address, the Governor congratulated the ICAR-CCARI team for initiating the project and NABARD for funding the project and also pointed out that if the project is successfully implemented in the Khazan lands, then a government policy can be made for using the Khazan lands by adopting models best suitable for the state of Goa.
After the launch of the project, Dr Parveen Kumar, Director, ICAR-CCARI briefed the Chief Guest about the benefits of the project to Goan farmers and Goan agriculture and landscape.
On this occasion, Governor also released a book "The Khazans of Goa" authored by Sandeep T Nadkarni, Ex-Chief Engineer, Water Resource Department, Goa.
Orlando Rodrigues, Chairman, Agriculture and Food Processing Committee, GCCI stressed upon the need for the implementation of the project to convert the Khazan lands of Goa into more productive lands with viable interventions and improve the livelihood of the Khazan land farmers.