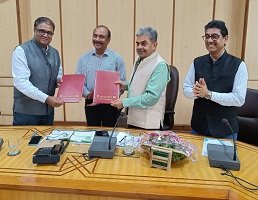 25 per cent of revenue earned by NamFarmers will be shared with IISR, Lucknow
ICAR-Indian Institute of Sugarcane Research, Lucknow have signed an MoU with NamFarmers.com for faster dissemination of IISR developed technologies.The MoU will be helpful in quick dissemination of ICAR-IISR developed technologies.
The MoU was signed by Dr A D Pathak, Director, ICAR-IISR, Lucknow and Asif Riaz, General Manager, NamFarmers.com on behalf of respective organisations.
Under this MoU, the ICAR-IISR, Lucknow will get Rs 2 each for the registration of each sugarcane farmer with NamFarmers.com. The advisory and technological information shared by the IISR, Lucknow will be sponsored by private firms on NamFarmers.com and thus 25 per cent of the revenue earned by the firm will be shared with IISR, Lucknow.
Dr Pathak said that there is immense scope for dissemination of improved sugarcane production technology as the Institute has developed number of improved sugarcane varieties with matching production and protection technologies which need faster dissemination among the stakeholders.