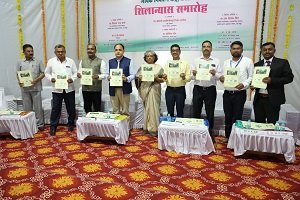 The new facility will come up on 1.25 acre land at total cost of about Rs 5 Cr
Dr T R Sharma, Deputy Director General (Crop Science), ICAR lays the foundation stone of the new building of ICAR-IISR, Lucknow Biological Control Centre at Pravaranagar (Maharashtra). 
The proposed building and facilities of Biological Control Centre is constructed on about 1.25 acre land with the total cost of about Rs 5 crore, which is sanctioned by the Government of Maharashtra under RKVY scheme.
A Discussion on the ongoing research projects and experiments in the sugarcane fields and the research work and outreach activities of the centre for the benefit of sugarcane farmers of the Maharashtra also took place.
Dr T R Sharma said that in view of the increasing demand for sugar and ethanol in the country, sugarcane farmers need to obtain high production of sugarcane by using modern technology developed and advocated by the ICAR-Indian Sugarcane Research Institute. Dr Sharma also advocated the use of bio agents for the management of pests and diseases in sugarcane.