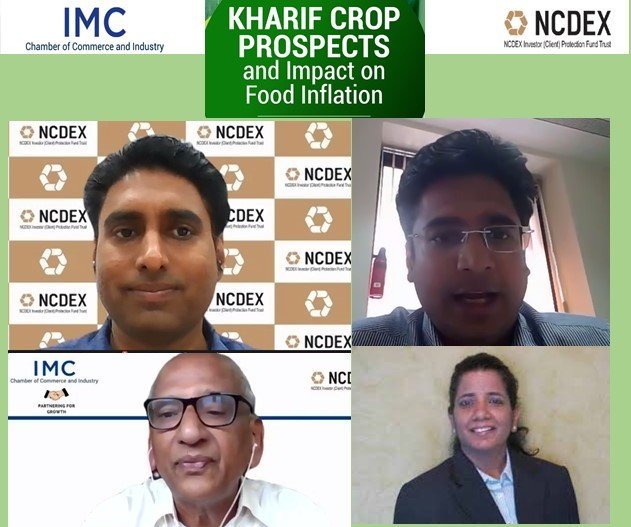 For the first time in the country in the current season, experts at the Indian Merchants' Chamber (IMC) webinar closely examined the progress of southwest monsoon, planted area and crop status. Forecast of the harvest size of major Kharif crops – covering rice, pulses, coarse cereals, oilseeds, cotton and sugarcane – was presented. The production of major crops is likely to be slightly below last year's level and well below the season's target set by the government. This was stated during a webinar organised by IMC Chamber of Commerce and Industry in association with NCDEX IPFT. 
Looking at lower area coverage and lack of precipitation in key growing states in eastern India (UP, Bihar, Gangetic West Bengal, and Jharkhand) rice production is expected to decline from last year's 111.8 million tonne to 100-102 million tonne in the current season.
Pulses to fall to 8.4 million tonnes from 10.5million tonnes, Oilseeds to fall to 21.5 – 22.5 million tonnes from 23.9 million tonnes.
Overall, the harvest size of major crops is set to be smaller than last year's, except cotton. Which is in the target range of 335 to 345 lakh bales, the target was set for 370 lakh bales.