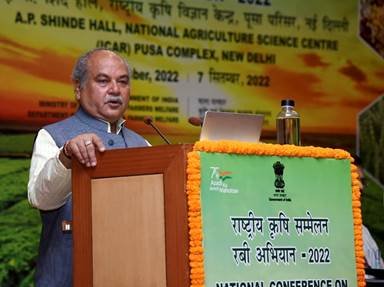 Narendra Singh Tomar, Union Agriculture Minister, inaugurated the National Conference on Agriculture for Rabi Campaign 2022-23 on September 7 at National Agricultural Science Complex (NASC), Pusa, New Delhi. Addressing the Conference, he said that as per the 4th Advance Estimates (2021-22), production of food grains in the country is estimated at 3157 lakh tonne which is higher by 50 lakh tonne than the production of food grain during 2020-21, and the total pulses and oilseeds production during 2021-22 is estimated at record 277 and 377 lakh tonne respectively.
Tomar said that all the farmers will be brought under the ambit of this scheme which will make them feel secure. He said that the productivity of the soil is decreasing due to the use of chemical fertilisers, hence organic and natural farming is being promoted.
Tomar also said that the Central Government has started working on Digital Agriculture to bridge the gap between the farmers and the Government so that the farmers get the benefits of the government schemes transparently.
The objective of this Conference is to review and assess the crop performance during the preceding crop seasons and to ensure supply of critical inputs and facilitate adoption of innovative technologies with a view to enhance production and productivity of the crops.