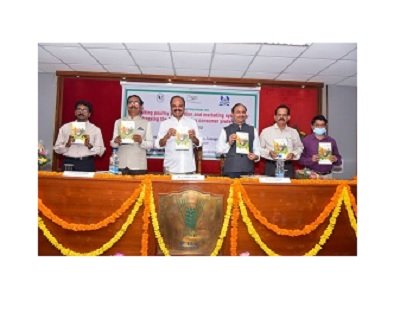 The ICAR-Directorate of Poultry Research, Hyderabad organises the seminar
The ICAR-Directorate of Poultry Research, Hyderabad recently organised a National Seminar on 'Revisiting Poultry Production and Marketing Systems for Addressing the Fast-Changing Consumer Preferences' in Hyderabad. The seminar was organised in collaboration with the Indian Poultry Science Association, Telangana and Andhra Pradesh Chapter.
The Chief Guest, Dr G Ranjith Reddy, Member of Parliament (Lok Sabha), Chevella Constituency, Telangana urged that the deliberations should focus on highlighting the health benefits of egg and chicken meat. He urged the industry to stay strong in marketing, publicising and advertising the products. Dr Reddy also encouraged the Young Veterinary Graduates for venturing into the poultry sector which has a lot of opportunities.
The Guest of Honor, Dr V Ravinder Reddy, Vice Chancellor, PV Narsimha Rao Telangana Veterinary University, Hyderabad emphasised on the need for supporting the poultry farmers by providing the feed ingredients on time at a reasonable cost.
Earlier, welcoming the dignitaries, Dr RN. Chatterjee, Director, ICAR-DPR, Hyderabad underlined the role of the poultry industry and its contributions to the national economy.
The scientists from ICAR-DPR, Hyderabad along with officials, staff & students from the veterinary university, poultry entrepreneurs and industry representatives from Andhra Pradesh and Telangana; Officials from the Animal Husbandry Department and Members of IPSA-Telangana State and Andhra Pradesh Chapter participated in the seminar.