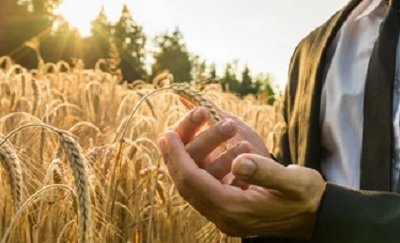 Image credit: Shutterstock
In the last few years food grain production in India has quadrupled and there has, thus, been a substantial increase in available food-grain per capita. Yet, the food grain export industry is struggling with issues such as rejection of consignments by 27 European countries due to pesticide residue. Crop yields in India are still just 30 per cent to 60 per cent of the best sustainable crop yields achievable in the farms of developed and other developing countries. Clearly, it is time for change. India needs to respond to long-standing issues and challenges to make food grain production more profitable. In such a situation agri-tech startups play a very crucial role to validate the quality of food grains. However, the million dollar question is: 'How, exactly, can startups make food grain production profitable?
A significant part of our agricultural growth evolves through application of new technologies. The use of innovative technology is necessary to meet the forecasted demand in a sustainable manner and move Indian agriculture along the path of growth.
Strengthening food crop processing
Food crops form an essential part of the diet of humans. During their production, harvesting, post-harvest handling and storage, strategies are needed and technologies must be applied to ensure the food safety of food crops destined either for consumption as minimally-processed products or for use as components in manufactured food products. Cumulative effects of technology over the next decade will change the face of agriculture.
Stating the steps to strengthen food crop processing and procurement, Anand Chandra, Executive Director & Co-Founder, Arya.ag, said, "Farmer Producer Organisations (FPOs) play an essential role in the overall development of the farming community. They help in developing capabilities of farmers by building knowledge and skills. Involving FPOs in the distribution of key insights such as which fungible goods to produce and how they must be harvested can go a long way in strengthening our capacities. Another crucial intervention in procurement is building and strengthening networks so we can buy directly from the farmers. FPOs can become the aggregators and assist in smooth and seamless flow of produce from farm to processor. Some levels of processing can be made possible right at the farm gates such as like grading and sorting and some amount of sieving, improving returns for the farmers."
He added, "Though grading and sorting can easily be moved to the farm gates, FPOS may find secondary levels of processing challenging. This is where startups can play a crucial role. By enabling a farm level processing units and systems, startups can create capabilities within the farm community with ease and empower them with better returns. These interventions can start with specific commodities and with success grow wider and deeper."

Validating food grain quality
In the current grain-handling scenario, grain type and quality are identified manually by visual inspection which is tedious and not accurate. There is a need for the growth of an accurate and objective system for quality determination of food grains.
Many agri-tech startups are working towards introducing new technologies for grain type identification and analysis of rice quality (i.e., Basmati, Boiled and Delhi) and grade (i.e., grade 1, grade 2, and grade 3) using Neural Networks.
Navneet Ravikar, Chairman & Managing Director, Leads Connect Services, said, "Farmers, in general, need to understand the quality of the food grains. For this, agri-tech startups should be promoted so that we can increase the testing of the product and compare it with export quality standards."
He added, "Currently, we are working on getting the yield estimation done in line with the government initiatives. The plan is to test at least 4 samples per gram panchayat to understand their quality. By doing this, we can categorise the food grains per gram panchayat. So, if a buyer wants a particular quality of grains, then he can directly connect with the gram panchayat providing it. Technology sits at the core of making agriculture profitable. We use drones, satellite to assess the land suitability for crops and give advisory to the farmers accordingly."
Post-harvest revolution
With the country's food grain production increasing, Prime Minister Narendra Modi has given attention to the food processing sector. While addressing a webinar on budget provisions for the farm sector, Modi stated, "There is a need for post-harvest revolution or food processing revolution, and value additions." Modi highlighted that the food processing sector needs to be developed at a faster pace and that participation of farmers as well as public-private partnerships need to be increased to bring about the food processing revolution.
He also stressed about the need to encourage agricultural startups, saying they have performed well during the pandemic.

Harabaag
With PM Narendra Modi encouraging the post-harvest revolution, many agri-based startups have come forward with technologies for post-harvest management. Mumbai-based Harabaag is one such startup which organises the post-harvest supply chain using micro-level crop data. It is creating an online platform where all agriculture stakeholders will be able to discover, evaluate and connect with each other. The agri-tech startup claims to have captured crop data from nearly 120,000 farmers in two years. Furthermore, the startup captures farmers' basic crop data – types of crops grown, fertilisers and inputs in each crop, quantities grown and sent to mandis, etc.
Arya.ag
Another startup that is bridging the gap in the post-harvest-agri transactions is Arya. India's largest integrated grain commerce platform, Arya.ag, has recently announced the close of its Series C round, having raised $60 million in a mix of equity and debt. The startup connects sellers and buyers of agri produce, providing complete assurance on quantity, quality and payments. The platform eliminates distress sales of farmers' produce by enabling farmgate storage and seamless finance options, offering farmers the freedom of when and whom to sell to.
Commenting on the growth of the startup, Chattanathan Devarajan, Arya's co-founder, said, "We have visibility on grains worth over $2 billion on the Arya platform, and this number is growing rapidly as we gather data from warehouses around the country. This funding round will help us gain market share for our core offerings and add more services to consolidate our position as India's most trusted platform in agriculture. We believe that these partnerships, old and new, are an endorsement of Arya's strength to drive penetration and lead transformation within the sector."
Sustaining agri growth with tech
From artificial intelligence, block chain, machine learning, data analytics, robotics, supply chain excellence to post-harvest management the digital applications have enabled startups to spring up with offerings. The only question that arises is whether our existing strategies adequately prioritise the key elements that have the potential to bring prosperity to farmers by providing cost-reducing solutions and achieving desired growth in future.
Indian startups are changing the face of agriculture in small,yet meaningful ways, where technology alone plays the most important role. With the implementation of proper strategies and technologies, the startups can help in strengthening food crop processing.

Pooja Yadav
pooja.yadav@mmactiv.com